About a year ago, a church friend of mine, Carmalyn, did a "closet audit" on her blog www.yougotjoy.com . She cleaned out her pantry and learned (and shared!) a life lesson in the process. The bottom of one of the drawers of my high-class, high quality IKEA dresser keeps coming out of the groove meant to hold it in place, leaving the potential for my unmentionables to slip right out the front of the drawer. Today I looked at it and figured that maybe if I lightened the load of the drawer it would be less likely to do that. It ended up being a bigger project than I thought.

First, I took everything out of the drawer and took inventory.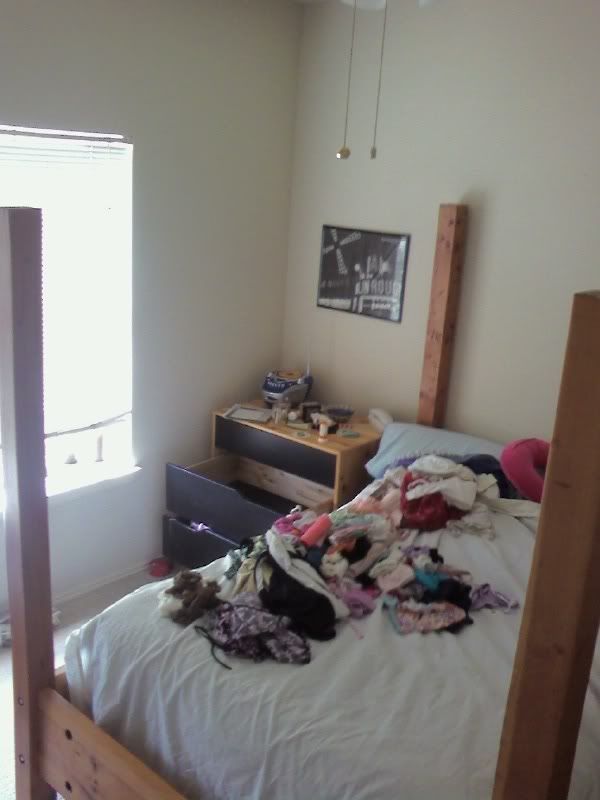 Here's the inventory:

I have a total of 74 pairs of underwear currently in the drawer. This does not include the week's dirty laundry in the hamper. Holy cow! Six pairs were worn out and I threw away. Eight pairs are too small and I put in the Goodwill bag. A whopping SIXTEEN pairs were still rolled and taped, being straight from the package, but had been "lost in the sauce" like my kids at school like to say.
I have 21 bras, not counting workout attire. Eighteen of those do not fit, and seven of the 18 will not ever fit again unless a miracle happens. Guess what also went into the Goodwill bag!

At Target today I bought some eyelet screws to hopefully actually fix the drawer, but it was definitely good to go through everything as well.

Like Carmalyn, a few lessons can be learned here...
What is overstocked? What is outdated? What is "off limits"?

Overstocked---clearly I have more underwear than I regularly wear. If you can go over two months without washing underwear, there's a problem!!

Outdated---some of the items in my drawer I have not worn since college and can no longer wear because I have gained weight. But that's a whole other blog for a whole other day.

Off limits---erm...nothing in here is really off limits, so I guess this doesn't count here.

What in your life is overstocked, out-dated, or off-limits? What can you rearrange or get rid of to simplify your life?
Comments: Read 1 orAdd Your Own.